Resources
Religious laws around the world
Chicago meets its new archbishop as the 'Pope Francis effect' sets inReligion News Service: Pope Francis has chosen Spokane Bishop Blase Cupich to be the next archbishop of Chicago. In the pontiff's most important U.S. appointment to date, he chose a bishop who shares the Pope's own emphasis on listening to the flock and caring for the poor. The Guardian: Pope Francis praises human rights and religious freedom during Albania visit. [Read more on Faith & Leadership].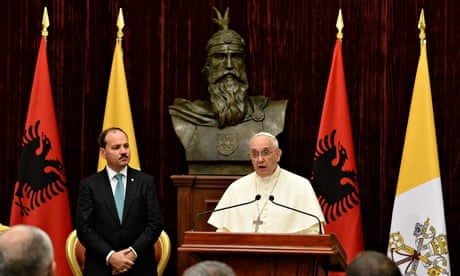 What does the constitution in Albania say about religious freedom? How about in Afghanistan? The Association of Religion Data Archives, an archive and source for high-quality survey data sets, provides demographic profiles for most countries in the world, including religious adherence, social and economic freedom ranking, religious freedom score, and public opinions about religion and religious diversity. Now, the ARDA National Profiles pages include a section on references to religion in each nation's constitution. To read the excerpts related to religion from the constitutions of nations around the world, access ARDA's National Profiles page, select a nation and choose the "Constitution" tab.
For example:
Albania
Region: Southern Europe
2012 Population1: 2,801,681
Total Area (sq. miles)1: 10,579
Life Expectancy at Birth1: 77.0
Gross National Income Per Capita (PPP 2012 US $)1: $9,930
Official Religion(s) Or Church(es) 2: None
[More International information: The Association of Religion Data Archives (ARDA)].
Pake (peace) or Paqe [pakje] or La Paqe or Páqja or Paqtim or Pakje (peace) or Paache (peace) in Albanian (sq) or Shqip spoken in Albania, Kosovo, Macédoine (Europe).
Albanian is the official language of Republic of Albania. Also spoken in Serbia, Bulgaria, Czech Republic, Romania, Slovenia, Italy, etc.
"Ishulli i Paqes"
Island of Peace
a bit of sandy ground
less than a tenth of a mile long
in the lap of Lake Koman' river canyons
of northern Albania
wonder what is so peaceful
about this crescent of land
that looks a bit like a fire-breathing sea monster
from space
with a small campground
along its spiny back
-Kimberly Burnham
News
Volunteer Shortage Affects Church Food Programs
Joe and Judy Nesbit spent Tuesday afternoon taking stock of hundreds of food items filling the shelves of the Seventh-...
Lilly Gives $10 million for Duke's Lilly Library Renovation
"Our [Lilly] family's commitment to restore and expand Duke's library that bears the Lilly name comes from our hearts...
Strengthening Indianapolis Through Arts and Cultural Innovation
The Indianapolis-based Lilly Endowment Inc. announced the project Wednesday as one of nearly $49 million in grants for...
Tue, Dec 25, 2018 - 09:00 am
Wed, Dec 25, 2019 - 09:00 am
Popular Tools
Duke Divinity Leadership Education
Questions We Answer
We know that you grapple with many difficult questions as a Christian leader. We want to help. Complex concerns about ministry can't be fully addressed here, of course, but we provide a starting point for engaging the deep issues. If you don't find what you are looking for, please see if our partners can help or contact us.
Have more questions?