Resources
Creating new occasions for thankfulness
Christians have plenty to thank God for: food on the table, clothes on their backs and a church to attend with fellowship friends, to name a few. Even so, life is not easy. However, the promise of Scripture is that if Christians cry out to the Lord in their adversity, God will respond, providing new occasions for thankfulness. Luke A. Powery, dean of the chapel at Duke University; the Rev. Delesslyn of Mississippi Boulevard Christian Church in Memphis; and Sharon Fuller of BOSS Ministries have collaborated to provide a rich set of resources to stimulate worship and preaching on Thanksgiving from an African American perspective, available on the African American Lectionary website.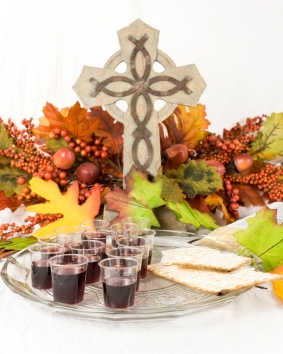 News
Volunteer Shortage Affects Church Food Programs
Joe and Judy Nesbit spent Tuesday afternoon taking stock of hundreds of food items filling the shelves of the Seventh-...
Lilly Gives $10 million for Duke's Lilly Library Renovation
"Our [Lilly] family's commitment to restore and expand Duke's library that bears the Lilly name comes from our hearts...
Strengthening Indianapolis Through Arts and Cultural Innovation
The Indianapolis-based Lilly Endowment Inc. announced the project Wednesday as one of nearly $49 million in grants for...
Tue, Dec 25, 2018 - 09:00 am
Wed, Dec 25, 2019 - 09:00 am
Popular Tools