Open call for journal entries: The Wabash Center
The Wabash Center for Teaching and Learning in Theology and Religion is calling for journal submissions for its international peer-reviewed journal, "Teaching Theology and Religion." In 400 words, describe a successful teaching tactic that you have used when teaching online. Your successful teaching tactic should be transferable by the reader beyond the narrowly specific context of your course, your reading assignments, and your lecture notes. There is no deadline and manuscripts are accepted on an ongoing basis. For more information or to read the journal, visit the Wabash website.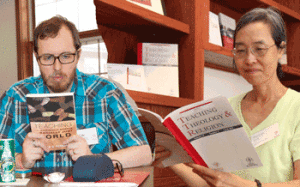 News
2019 Lilly Endowment Community Scholarship Applications
Online applications are available for the 2019 Lilly Endowment Community Scholarship, administered by the Heritage Fund...
God's Time
"Before I retired, the Lilly Foundation gave Asbury Theological Seminary a grant to enable its retiring graduates to...
Wind Farm Noise Reduction Grant from Lilly Foundation
Commissioner Frey also encouraged people to participate in a survey for Wabash Heartland Innovation Network that has...
Wed, Aug 1, 2018 - 09:00 am
Sir John Templeton's optimism about the power of the sciences and other discovery-oriented disciplines to advance our understanding of...
Popular Tools
Review rank-ordered data on religion in the U.S. and around the world.
Includes the latest data from the Religious Congregations & Membership Study, 2010